Building Codes & Approvals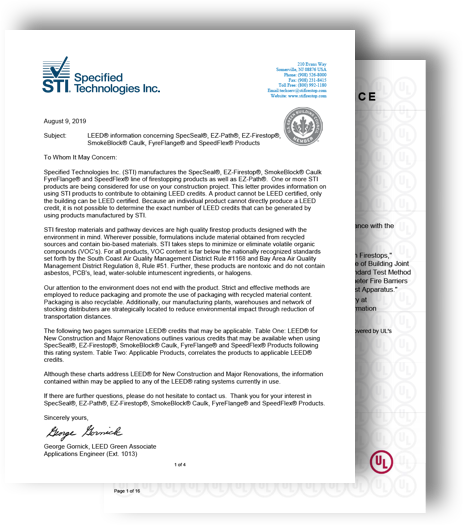 Approval Information
Access all of STI's approval certificates, reports and listing services from various certification bodies and agencies.
California State Fire Marshall
Certificate of Compliance
Building Code References
Important building code references that highlight requirements for firestopping. Relevant details included for the International Building Code (IBC), NFPA 101 "Life Safety Code" and the National Building Code of Canada (NBC) among others.
STI General Certificate of Conformance
Certification that Specified Technologies Inc. products are tested in accordance with the appropriate standards and meet all relevant requirements within these standards.
UL Certificate of Compliance
Assurance from UL that Specified Technologies Inc. products have been investigated in accordance with the relevant standards. Includes a list of every UL system for each individual STI product.
LEED Information
LEED® (Leadership in Energy and Environmental Design™) is a rating system devised by the United States Green Building Council (USGBC) to evaluate the environmental performance of a building and encourage market transformation towards sustainable design. It is a certification program that denotes how "green," or compliant in terms of energy conservation, water usage, air quality, and building materials, a building is over the course of its construction and for the years to come. LEED® strives to make the world a greener place.
LEED® Credit Calculator
Warranty Information
STI's products are backed by our comprehensive warranty and factory support. Find warranty information here.